I'm beyond excited to shine the author spotlight on my friend, Jack A. Ori.   Jack isn't just a writer; he's also a social worker who uses stories — fictional and otherwise — to help support young adults as they move forward into living independent, fulfilling and (most importantly) authentic lives.
He's a fantastic guy, and I was so honored to get the chance to interview him for this post.   
Tell us about your current work-in-progress.
I am currently writing a young adult novel called Reinventing Hannah, about a 16-year-old girl who struggles to reinvent herself positively after she is raped at the kind of party no one thought a girl like her would ever go to. Throughout the novel, Hannah deals with anxiety related to the rape (especially when she wants to move forward with the guy she's liked forever), growing apart from her best friend, and her parents' overprotectiveness once she finally opens up to them. She must also overcome her shyness and fear to advocate for herself and other survivors after she is bullied over what happened to her and the school administration won't help.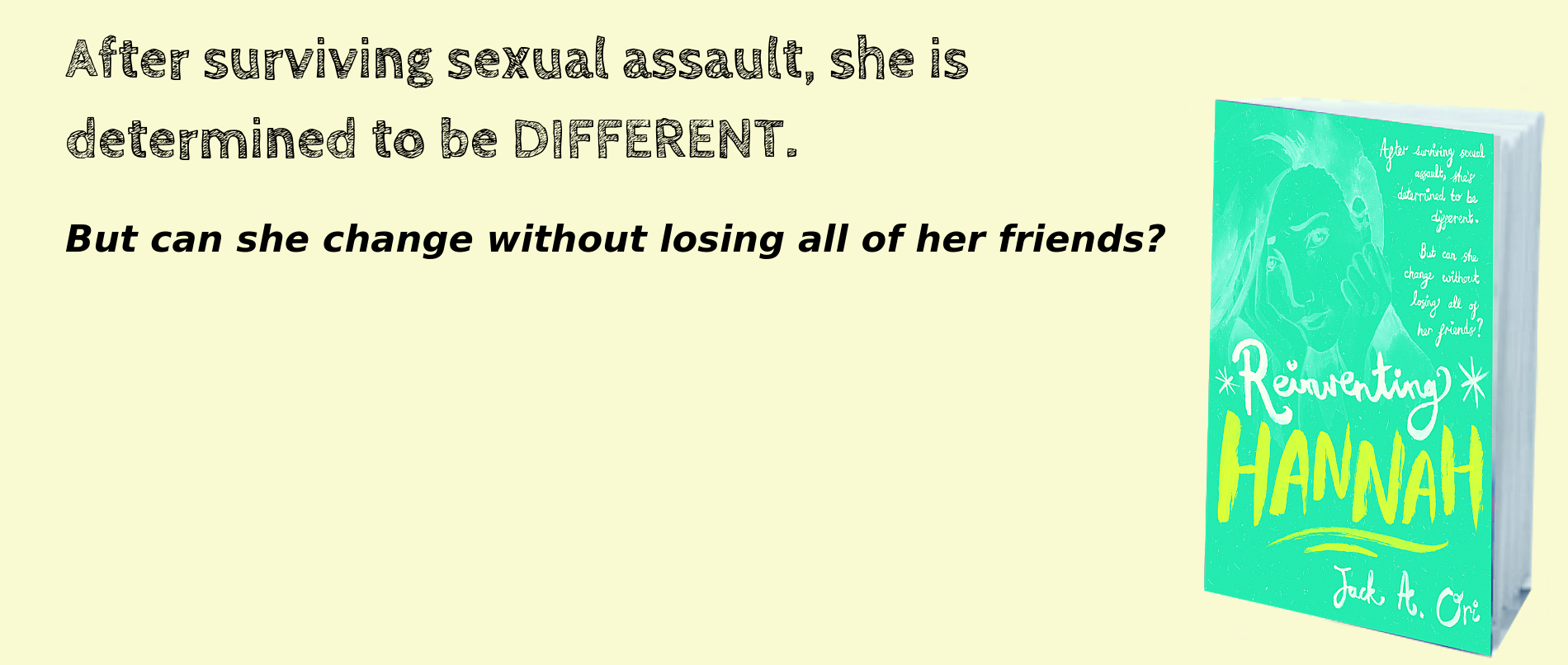 Where did you get your idea for this book?
I have been writing soap opera fan fiction for about three years and I wanted to write an original story based on a storyline I'd written there about a rape survivor. It grew and took on a life of its own and is a completely original and different story than what I started out with.
How long have you been working on this story? 
I wrote the first draft in November 2018 for NaNoWriMo. So about 18 months now. But there is light at the end of the tunnel.  I'm working on my final draft and hoping to release the finished novel in April 2020.
What does your writing process look like?
I'm a semi-Pantser. I usually plan one or two scenes ahead but as often as not sit down and ask my character what she would like to happen in the story today. I do have a Trello board where I track subplots as I write so when I revise I can turn the draft into a finished story.
Why do you write?
Part of why I write is it's fun and I always have. I also write because I want to help empower young adults in a way that I was not empowered when I was their age and I believe writing stories for them can help make a difference.
Do you try more to be original or to deliver to readers what they want?
Both. I have a vision that I'm not going to change due to reader opinion. But I do listen to readers and consider their thoughts. Sometimes I may move in a different direction or use a reader idea in a new project.
Finally, what advice would you give other writers?
The first thing I often tell writers is to believe in themselves. It's a cliche but it's so important. I spent a lot of years not owning that I was a writer. That made it harder than it had to be. Also, treat your writing as a business. Whether you are traditionally published or independently published, learn as much about the industry as you can and especially before you pay for any service or sign a contract. Finally, there is no such thing as a bad idea. Write and then revise later!
How can other authors get in touch with you?
I have a membership page on Patreon (http://www.patreon.com/jackaori) which gives you access to a private FB group. You can also follow me on Facebook (http://facebook.com/heroicmusebooks), Twitter (http://www.twitter.com/heroicmuse16) and Instagram (http://www.Instagram.com/heroicmuse). Of these three I am on Twitter most often.